Regent St
---
Regent Street is a major shopping street and thoroughfare in London's West End. Named after the Prince Regent (later George IV), it was built by John Nash as part of a ceremonial route from the Regent's residence at Carlton House in St James's to Regent's Park. Starting as Lower Regent's Street at its intersection with Charles II Street and Waterloo Place, it runs north to Piccadilly Circus then becomes Regent Street by turning westward, and curves around in a quarter-circle until it is heading north once more. It then continues past Oxford Circus becoming Upper Regent's Street and ends at its intersection with Langham Place, Cavendish Place and Mortimer Street.
There is a yearly Regent Street Festival, and the Christmas light displays are a London tradition, with a "celebrity" being chosen annually to ceremonially light them up. In recent years, the Christmas lights have been used predominantly as just another advertising venue, usually for films aimed at a younger audience. As well as shops, there is a large amount of office accommodation on the upper floors of the buildings. The street features as one of the locations on the standard London version of the Monopoly board game.
History
---
Selected shops and other places of note
---
Apple retail store
The Apple retail store opened on Regent Street at 10am on 20 November 2004. This represented the first such store in Europe, and only the fourth outside the United States (the preceding three are in Japan, and one has since opened in Canada).
Austin Reed
Austin Reed's flagship store is located at 103-113 Regent Street. The store has an atrium at its centre, housing glass lifts allowing viewing across all floors. The lower ground floor sells womenswear and also houses Equilibrium, the refurbished 1920's Art Deco Barber Shop, offering a full range of hair face and body treatments for both men and women.
Broadcasting House
The BBC's headquarters are in Broadcasting House, whose front entrance is on Langham Place but easily visible from Regent St. Indeed, most Londoners think of Broadcasting House as marking the top end of Regent St. Several national radio stations broadcast from this 1930s Art Deco building.
Dickins and Jones
In June 2005 owner House of Fraser announced that the department store Dickins and Jones, which traces its origins to 1803 and has been located in Regent Street since 1835, will close in January 2006. The store was said to have been making losses for several years and to have failed to keep up with more fashion conscious rivals such as its neighbour Liberty. The building is to be redeveloped with small shop units on the lower floors and flats and offices above. [1]
Hamleys
Hamleys toy shop can be found 100 yards south of Oxford Circus on the east side of the road. Until the 1990s it was the world's largest toy store (now Toys "R" Us, in New York), with six floors devoted to playthings. The fifth floor was recently opened with an open cafe. The ground floor is always decked out with a variety of soft toys, from small puppets to life-sized giraffes, and demonstrators. It remains the world's finest toy shop.
Liberty
Liberty a department store known for its Art Nouveau styles.
Oxford Circus tube station
Oxford Circus is the junction where Regent Street crosses Oxford Street, and the site of one of the busiest of London's underground stations. The Central, Bakerloo and Victoria lines all meet here.
The Crown Estate redevelopment
---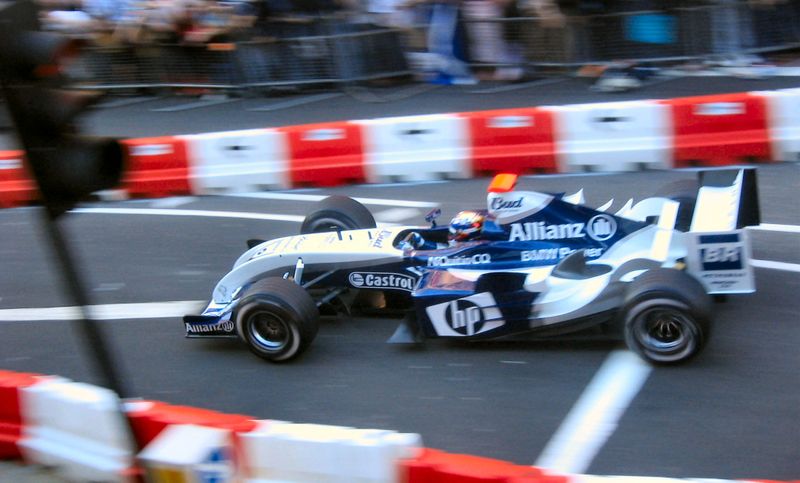 BMW.WilliamsF1 Team participated in a demonstration in
London
's
Regent Street
prior to the
2004 British Grand Prix
.
Since the turn of the millennium, the Crown Estate has embarked on a major redevelopment programme in Regent Street and some of its side streets. This involves replacing some of the smaller shops with larger units. More importantly from a commercial point of view, many of the early 20th century offices, which typically for that era have many corridors and small individual offices, are being replaced with the open plan accommodation which is now required by tenants. This is being done by completing stripping out the interiors and rebuilding behind retained facades.
The Crown Estate will be moving its own headquarters from Carlton House Terrace to Regent Street. As of May 2005, the reconstruction of one block is complete and two more are in progress. The largest element of the plan is the reconstruction of the Quadrant at the southern end of the street close to Piccadilly Circus. In addition to shops and offices, a five star hotel and a small number of flats will be created here.
Trivia
---